Rooftop Packaged Air Conditioner
Klîma pakkirî ya li ser banê Holtop amûrek AC-ê ya mezinahiya navîn e ku fonksiyonên HVAC (sarkirin, germkirin û hewara hewayê hwd.) li hev dike û ew hemî pêkhateyên kompresor, vaporator, kondensator û valves hwd di yek yekîneyê de vedihewîne.Klîma pakkirî ya li ser banê Holtop bi gelemperî di sepanên bazirganî de li ser banê banê têne saz kirin.
Eco-dostane:Refika ekolojîk a celebê R410A, qebareya derzîlêdana sarincê kêm.
Stable û pêbawer:Kompresor ji hêla materyalên berxwedêr ên germê ve hatî çêkirin, parçeyên yedek ji markayên pola cîhanî, strukturek bihêz û performansa pêbawer tê çêkirin.
Sêwirana pakkirî û tevlihev:Bi yekîneya hundurîn û yekîneya derve re yekgirtî ye ku veberhênana projeyê kêm bike, serdema sazkirinê kurt bike, cîhê sazkirinê xilas bike û di xebata rojane de lênihêrîna hêsan.
1. Pergalê hêsan bikin, veberhênana jêrîn:
Klîma pakêtkirî ya li ser banê Holtop ne pergala ava sar û ne jî sarbûnê dipirse, ku dikare lêçûna pompeya gerîdeyê, birca sarkirinê, û alavên din ên têkildar ji vê pergalê re xilas bike, bi vî rengî lêçûna veberhênan û lênihêrînê ya giştî ya li ser pergala HVAC ta radeyek mezin kêm dike. .
2. Sêwirana Tevlihev, Sazkirina Hêsan û Pêkhatî, Peya Kêm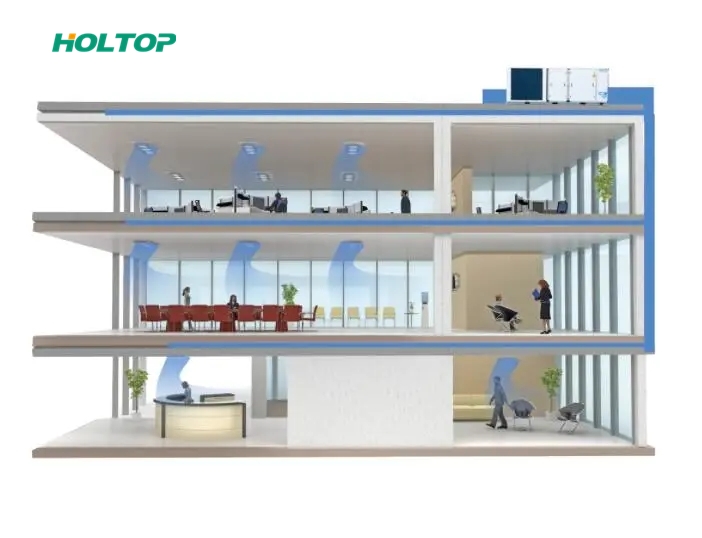 Pêdiviya bikarhêner li ser sazkirinê bi tevahî tête hesibandin.Yekîne konsepta sêwirana kompakt tête pejirandin ku bi yekîneya hundurîn û yekeyên kondensatorê yên derve re tê yek kirin da ku li cîhê pêwendiya lûleya sarincokê û karên weldingê yên zêde nebin, û ji bo radestkirin û sazkirinê ewle û hêsan e.
Klîmaya pakkirî ya li ser banê Holtop dikare li derve li ser erdê an li ser banê banê were danîn, jûreya makîneyê an cîhê hundurîn tune ku ji bo xaniyê yekîneya pakêtê were danîn.
Berî xebata pergalê tenê çend xebat ji bo kabloya hêzê, têlkirina kontrolê, kanalîzasyonê hewce ne
3. Berxwedana korozyonê, Aqlîmatîzasyona şertên hewayê yên hêja
Parçeyên strukturên yekîneyê ji bo antî-korozyonê bi toz têne pêçan.Çarçoveya îzolekirî ya germî ya bi hêz, panela sandwichê ya PU-ya du-çerm, û sêwirana avahiyek-delîlên hewayê bi taybetî ji bo sazkirina li derve, ku hemî jî adaptasyona wê ya hêja ji cûrbecûr şert û mercên avhewa yên li deverên cihêreng re misoger dikin.
4. Operasyona Range Germahiya Wide

Moda sarbûnê dikare bi germahiya hawîrdorê heya 43 °C bilind e re bixebite, û di heman demê de dema ku ew tenê 15 °C be jî peyda dibe, da ku di hin serlêdanan de daxwaziya sarbûna taybetî têr bike.Germkirin tê peyda kirin her çend germahiya derve bi qasî -10°C be jî.
5. Xweserkirin Ji bo Projeyê
Specifications û beşên fonksîyonel ên pakkirî yên li ser banê Holtop dikarin li gorî projeya taybetî bêne sêwirandin û çêkirin.Mînakî, tansiyona bilind a derveyî ji bo hewaya drav-dûr-dirêj peyda dibe da ku hewa têra her jûreyek quncikê garantî bike;beşên vebijarkî dikarin bêne saz kirin da ku hewcedariya xerîdar bicîh bînin û rewşa hewaya hundurîn a îdeal biafirînin.
---
---